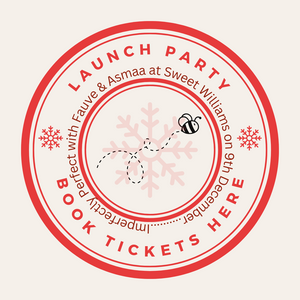 It's time to get creative with Imperfectly Perfect by Fauve and Asmaa.
Join us for this exclusive Launch Party Workshop on Saturday 9th December 2023 at Sweet Williams, based at 6-8 Herbert Street, Pontardawe, SA8 4EB.  Please choose from the drop down menu if you would like to attend the morning session between 10am and 12.30pm or the afternoon session between 1.30pm and 4pm.
Learn to sew a choice of Christmas gifts or ornaments to create meaningful Christmas gifts for friends and family whilst enjoying the mince pies and refreshments provided. Embrace the festive cheer with perfection that's, well, imperfectly perfect.
This is a fantastic opportunity to have an intimate sewing experience with two Sewing Bees, but also get a sneak peek at their soon to be released 2024 sewing classes
Everyone successfully booked onto these sessions will also be able to receive a 10% discount across products in store at Sweet Williams on the day of the event.  
Christmas jumpers are optional!
Q&A
Is this workshop suitable for complete beginners? 
- Yes - absolutely!
What do I need to bring with me?
- Just yourself - unless you have a fabric in mind that you would like to use.
Do I need to bring my own tea?
- No!  We'll ensure plenty of tea bags will be available on the day!
We are unable to offer any refunds for this event.