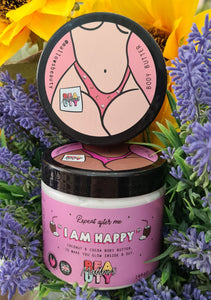 A choice of amazing body butters.  Vegan and made in Wales.  
Coconut and Cocoa Body Butter
I am a whipped cocoa and coconut oil body butter, with avocado, olive and sunflower oil. I am super moisturising for instant hydration. I smell like a tropical dream and will make you so silky soft and smooth, everyone will want to touch you. HANDS OFF!
Peachy Shea Body Butter
I am a luxe peachy shea butter, body moisturiser. I quickly penetrate into your skin without clogging pores. I contain antioxidants & vitamins A, E and F which helps defend against free radical damage and promote healthy skin. I am perfect for dry, chapped or even normal skin looking for a boost. Shea butter is also a natural anti- inflammatory. After one session with me I will help your skin become super soft, silky smooth and glowing! I don't take up much time, rub me in, pop your clothes on and go take over the world, babe.