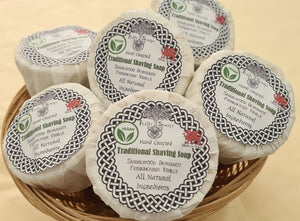 Shaving Soap Bar – Just Add Your Own Soap Bowl
Traditional, Natural, Hand Made, Solid Shaving Soap
For a Superb Shave that Leaves the Skin Moisturised and Supple.
The oils in this soap include Avocado, Coconut, Shea Butter and Vitamin E.
The High Quality, Natural, Essential Oils Include:
Sandalwood:
has natural antibacterial properties
Frankincense:
is a natural anti-inflammatory.
Patchouli:
soothes cracked dry skin.
Vitamin E:
For a younger complexion with built in natural anti-inflammatory and antioxidant properties
Free from parabens, artificial colours and soaping agent (sulphates).
kind to the environment and your skin.
As the world battles environmental issues, more of us are returning to a more traditional way of life, before the days of single use plastics and aerosols.
This traditional shaving soap bar with natural ingredients and Eco-friendly packaging, delivers a superior grooming experience with minimum damage to nature.
If you'd like to go one step further, consider switching to, reusable, stainless steel safety razors.
This cuts down on plastic waste from, single use disposable razors, normally ending up in the bin and from there, probably the sea!
Soak your brush with warm water.
Shake the brush to remove excess water.
Apply the soap to face in a circular motion and shave.
Rub the brush in a circular motion onto the shaving soap,
If needed wet the brush again with warm water and repeat.
Ensure there is no water left on soap after use,
Suds are fine but, water will shorten it's life, by soaking into the soap and softening it.
Stearic acid (Palm), Cocos Nucifera (Coconut) Oil, Elaeis guineensis (Palm) Oil (sustainable), Persea americana (avocado) Oil, Ricinus Communis (Castor) Seed Oil, Butyrospermum Parkii (Shea) Butter, Glycerine (Vegetable), Santalum album (Sandalwood) Oil, Citrus bergamia (Bergamot) Oil, Boswellia (Frankincense) Oil, alpha-Tocopherol (Vitamin E) Oil.