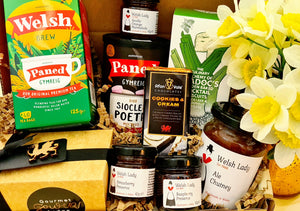 Gorgeous Welsh Produce Hamper.
Perfect if you are struggling to find the perfect gift, or if you simply fancy a treat for yourself.
Each box will contain:
1.  A Box of Welsh Brew Premium Tea
2. A Tub of Welsh Brew Luxury Hot Chocolate
3. A Box of Crackers from Cradocs
4.  A Jar of Chutney from Welsh Lady Preserves
5. 3 Miniature Jars from Welsh Lady Preserves
6. A Bar of Afan Vale Chocolate, picked at random. 
7. A Box of Fudge (flavour chosen at random) from Gourmet Gower Fudge.
Everything will be packaged into a brown box, nestled between shredded tissue, so ideal for gifting.