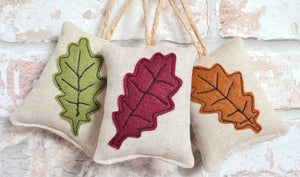 Available to purchase individually or as a pack of 3 (1 of each colour leaf is supplied when purchased as a set of 3 - a discount too - win win).
Each design is hand drawn, hand cut and free motion embroidered.  
Filled with premium hollow fibre and finished with a jute twine hanger.  
Approx 8cm length x 7cm width in size.