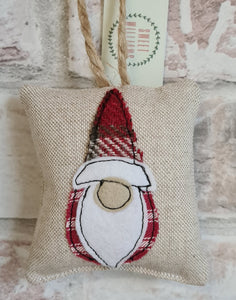 PRE ORDER
Handmade in our South Wales workshop, this beautiful hanging decoration is part of our Christmas Collection.  Please note that each hanger is made to order and will not be dispatched until November. This design will only be available in store or via our website as an exclusive this year. 

The Gonk has been designed in house and is hand drawn and hand cut for each piece that we make.  Each one is free motion embroidered onto the front of each decoration.  

Each hanger is filled with premium hollow fibre and has a jute twine hanger.  
Approx 8cm length x 7cm width in size.