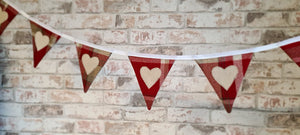 A stunning set of bunting. Features 9 flags in your choice of our signature wool touch tartans. Choose from red, blue, grey, beige or green. 
Each flag features a cream linen look heart and the reverse side of the flags matches this fabric. 
White bias binding, with extra length at the ends to tie.