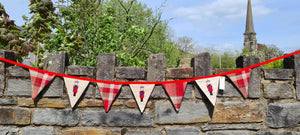 Handmade in my South Wales workshop, this beautiful bunting is part of our Royal Coronation Collection.   It really is a special piece, which involves rather a lot of sewing!

There are 7 flags altogether - 3 with a King design and 4 in our Signature Red Tartan.

The King has been designed in house and is hand drawn and hand cut for each piece that we make.  Each one is free motion embroidered onto the front of each flag.  The detail is beautiful.  

Finished with red cotton bias binding. 
Approx 115cm in length (not including the ties at either end).