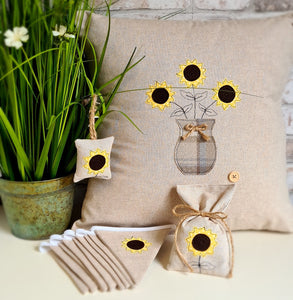 We are thrilled to introduce this gorgeous sunflower design into our collection. Choose from the drop down menu which product you would like.
Available as either : 
* a decorative hanging decoration. (£6).
* a lavender bag, filled with award winning lavender. (£7.50).
* a set of bunting, which has 9 flags and measures approx 1.5m. (£28.00).
* a square cushion featuring a vase of sunflowers. Approx 18" x 18" in size. Envelope fold back and premium hollow fibre cushion pad provided. (£30.00).