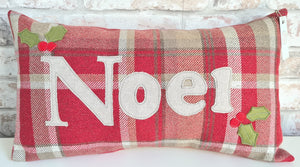 A beautiful handmade cushion in a choice of our Signature Collection tartans.
The wording reads Noel in a cream linen look fabric.
Finished with some festive wool blend holly designs.
Envelope fold back in the same fabric as the lettering. Comes complete with a premium hollow fibre cushion pad.
Approx 12" x 20".