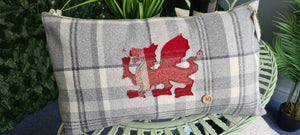 Handmade in my South Wales workshop, this beautiful cushion is part of my Welsh Collection.  Please note that each cushion is made to order.

It is made from a gorgeous Wool Touch fabric in a choice of 5 colours.

The Welsh Dragon has been designed in house and is hand drawn and hand cut for each piece that we make.  He is made from the same wool touch fabric as the cushion and is free motion embroidered onto the bottom right hand corner of each cushion.  The dragon is Red in colour save for the when he is placed on a red cushion, in which case he will be in beige.  

Finished with a wooden button hand picked from my favourite tin.

Each cushion has an envelope style back in a cream/beige linen look fabric and comes complete with a premium hollow fibre cushion pad.
Approx 12" x 20" in size.

All items are tagged with my special card and come wrapped in tissue paper.