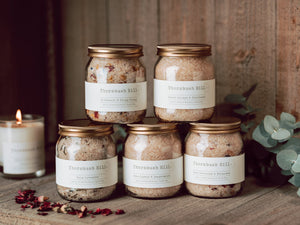 Making the most of this product: use a spoon or pour directly from the jar into your bath under hot running water. Allow the salts and essential oils to infuse before jumping in. If you'd rather not bathe in the botanicals, simply pop a few spoonful's into your Thornbush Hill reusable teabag and allow the hot water to dissolve the salts into your water. Jump in and relax!
We've researched and tested extensively, sourced our ingredients from ethical producers and create every bath tea in small batches, right here in Cowbridge. We hope you enjoy them as much as we enjoy making each one!
Proudly cruelty free, vegan friendly and compliant with UK legislation. Approximately 5 baths per jar depending on your preference!