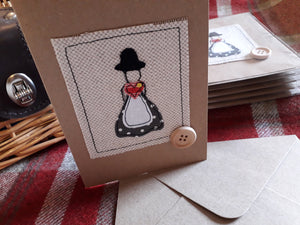 Handmade in my South Wales workshop, this beautiful greetings card is part of my Welsh Collection.  Please note that each card is made to order.

The Welsh Lady has been designed in house and is hand drawn and hand cut for each piece that we make.  She has a grey polka dot skirt, red cotton shawl, white cotton pinny and black cotton hat.  She is free motion embroidered onto a cream/beige linen look fabric before being mounted onto a brown Kraft card.  Finished with a yellow French knot for a daffodil and wooden button.

Each card comes complete with an envelope and is presented in a clear cello bag.    
These look beautiful in a frame.