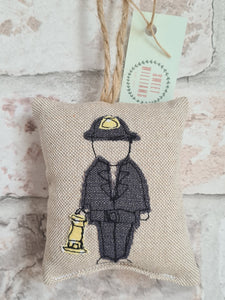 Handmade in my South Wales workshop, this beautiful hanging decoration is part of my Welsh Collection.  Please note that each hanger is made to order.

It is made from a lovely cream/beige linen look fabric.

The Welsh Miner has been designed in house and is hand drawn and hand cut for each piece that we make.  He has a grey trousers and jacket and a miners hat.  He is free motion embroidered onto the front of each decoration.  Finished with a yellow miners lamp, which is also free motion embroidered.  

Each hanger is filled with premium hollow fibre and has a jute twine hanger.  
Approx 8cm length x 7cm width in size.